Patricia Jean Sansom
b. 30 Nov 1949, d. 31 Oct 2010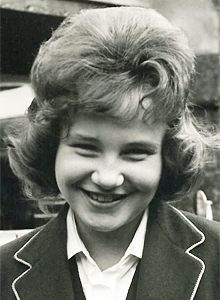 Patricia Jean Sansom - from Dean Barrett
      Patricia Jean
Sansom
was born on 30 Nov 1949 in
Nottingham, Nottinghamshire
, a daughter of Joseph J. and Grace J. (Handley) Sansom.
Patricia Jean Barrett died on 31 Oct 2010 at John Hunter Hospital in
New Lambton, New South Wales
, at the age of 60.
She was cremated on 8 Nov 2010 at Newcastle Memorial Park, Anderson Drive at Beresfield and it was recorded that her ashes were placed in Wall4, Panel M, Niche 152.
William Charlton
b. about 1875, d. 1879
      William
Charlton
was born about 1875 in
Northumberland
as he was 4 years old at the time of the family's immigration.
William Charlton immigrated on 27 Oct 1879 to
Sydney, New South Wales
, as an Assisted Passenger on board the "
Strathleven
", with his parents and siblings George and Annie.
William Charlton died in 1879 in
Newcastle, New South Wales
.
Elspeth Wilson Charlton
b. 1883, d. 1965
Francis J. Charlton
b. 1885
James W. Charlton
b. 1887, d. 1887
Sarah W. Charlton
b. 1887, d. 1888
Maggie Charlton
b. 1888, d. 1890
George Edmund Apps
b. 8 Feb 1874, d. 30 Jun 1950
Edmund Apps
b. about 1835
James H. Amos
b. 1855
George Amos
b. 1866
Sarah A. Amos
b. 1868