David Syme (1827-1908)
- Victorian newspaper pioneer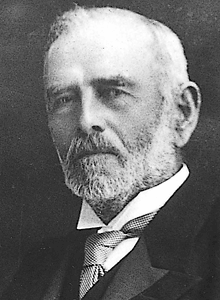 Early life and family
David Syme was born at North Berwick in Scotland, the youngest of the seven children and fourth son of George Alexander Syme, a parish schoolmaster and his wife Jean née Mitchell.
His childhood was one of study with little companionship with other boys of his own age. George Syme was not physically unkind to his sons, but Syme would write later: "It was difficult to understand my father's attitude to we boys. He had naturally a kind disposition; he was a devoted husband and no-one ever asked him for help that he did not freely give … but his affection for us never found expression in words".
He was 17 years old when his father died and he continued his classical studies with some doubt to his future. He had thoughts of qualifying for the ministry but revolted from the Calvinistic teaching of the day; his brothers George and Ebenezer had renounced the Church of Scotland. He obtained a position about 1850 as a proofreader's assistant on a Glasgow newspaper, but with low pay and little prospect of advancement, he sailed for San Francisco by way of Cape Horn in 1851 and arrived after a voyage of five months to search for gold but had little success.
Australia
Early in 1852 Syme sailed for Australia in a badly provisioned vessel, and arrived at Sydney in a half-starved condition. He took the first steamer for Melbourne and walked to Castlemaine, having some success there and at the Bendigo, Wangaratta, Ballarat and Beechworth diggings.
The Age
Towards the end of 1855 Syme returned to Melbourne, where his brother, Ebenezer, was editing The Age newspaper and when it was threatened with failure bought it for £2000 in June 1856. David Syme, who had saved some money while on the diggings joined his brother as partner in The Age on 27 September 1856. The paper struggled on for 18 months, when finding it could not support the two proprietors David obtained other employment. Ebenezer retired in 1859 and David, with some reluctance, returned to the business. When Ebenezer died in 1860, David decided to carry on leading and editing the paper.
The task of running the newspaper was a difficult one, and only the fact that the proprietor was willing to work 15 hours a day made success possible. The original policies of The Age included manhood suffrage, the opening of the lands for selection by the people, no compensation for the squatters, and compulsory, free and secular education. When protection was added to the program great opposition was raised. Opponents felt that these policies would greatly harm the colony. The opposition to The Age was carried even to the extent of boycotting its advertising. Various abortive amending land acts became law between 1860 and 1869, but in the latter year an act was passed which embodied most of the principles for which Syme had fought.
Protectionism
Syme felt that manufacturing industries should be established in Victoria and that this could only be done by bringing in trade protection. Syme was a driving force, through friendship and Editorial policy, to enable protectionism to become the settled economic policy of the colony; and consequently many factories were established. However, it was bitterly opposed and dispute led to great contests between the Victorian Legislative Assembly and the Victorian Legislative Council. The struggle went on for years, but Syme's belief that the people as a whole should rule, rather than any one section of them, was finally established, and for a long period The Age became the predominant factor in Victorian politics, with Syme as Editor for many years. It is evident that Syme at this time had very great influence within the colony.
In The Age, Editorials attacked the railway commissioners' mismanagement and the paper was taken to court for libel. Although almost all charges were found to have been proved the fine was set as one farthing. Syme became a campaigner for agriculture, especially irrigation, as well as early closing of hotels, anti-sweatshop legislation, and old-age pensions. When the issue of Federation of the states became important towards the end of the century it was Alfred Deakin, a journalistic protégé of Syme's, who became the leader of the movement in Victoria with the strong support of The Age.
Later Years
Syme authored several books, including Outlines of an Industrial Science, (London, 1876), Representative Government in England, the controversial On the Modification of Organisms (1890), and The Soul: A Study and an Argument (1903). He also involved himself in philanthropic activities, including the financing of expeditions to New Guinea and Central Australia, and he gave £3000 to the University of Melbourne to endow the Syme Prize for research in biology, chemistry, geology and natural philosophy. The introduction of linotype machines threw many of Syme's compositers out of work; he ensured that they were provided for. The older men were pensioned off and others were set up in business or placed on the land.
Syme died at his home Blythswood in Kew near Melbourne on 14 February 1908. In 1859 he had married Annabella Johnson, who survived him with five sons and two daughters. He is buried at Kew Cemetery. Syme was hailed on his death as "one of the greatest men in colonial history" by his friend then Prime Minister Alfred Deakin.
David Syme received no honours, having declined a knighthood in 1900. A knighthood for services to journalism and the Commonwealth was later presented to David Syme's son, Geoffrey in 1941.
The Age remained in family hands after Syme's death. It was headed by Sir Geoffrey Syme from 1908 to 1942 and Oswald Syme from 1942 to 1964 before eventually being passed to Ranald McDonald, David Syme's great-grandson, (Oswald Syme's grandson) who sold the Age to Fairfax in 1983. The Syme family had controlled the newspaper outright for 127 years, from 1856 to 1983.
Reference:
* https://en.wikipedia.org/wiki/David_Syme (Extract)


This page was updated on: 18 Nov. 2020