Sir Arthur Palmer KCMG (1819 - 1898)
- Pastoralist, Politician and Queensland Premier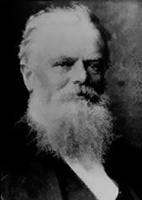 Background
Arthur Hunter Palmer was born in Co. Armagh, Ireland in 1819, a son of Arthur and Emily Palmer. He immigrated to Sydney in 1838, spending his early years on properties in the New England Region of New South Wales working on, and later managing, properties belonging to Mr Henry Dangar. In 1845, he moved to Queensland, and by 1863 had leased and was operating thirteen runs, calling the resulting station Beaufort, which comprised a total of 900 sq. miles (2331 sq.km) near the Belyando River in the South Kennedy District, of which he remained the owner for many years. He became interested and active in local politics before successfully being elected to the Queensland Legislative Assembly in 1866, thus commencing a career in state politics.(Ref.1)
Success in Public Life
In Parliament, he became Colonial Secretary in the Mackenzie Ministry in 1867, and successively Minister for Public Works and Minister for Lands in the same Cabinet. After holding office for eighteen months, his Ministry resigned; but Mr. Palmer again came into power in 1870, and formed the Palmer Ministry, which held office for nearly five years. In January, 1879, Mr. Palmer joined Mr. Thomas McIlwraith in a new Ministry now in power, taking the office of Vice-President of the Board of Lands and Works. He become Colonial Secretary and Premier of Queensland from 1870 to 1874. During an economic depression in 1870, Palmer authorised a civil-service retrenchment, which proved unpopular. Successful bills included the Electoral Redistribution Act, which divided the colony into single-member electoral districts based on population, and the Homestead Areas Act, which divided large pastoral leases into smaller areas of land. From 1881-1898 he was President of the Queensland Legislative Council. Palmer was also a proprietor of the Brisbane Courier newspaper and a Trustee of the Queensland Museum.(Refs.1 and 2)
Family Life
At Sydney in 1865, he married Cecilia Jessie Mosman, a daughter of Archibald and Harriett Mosman, and took up residence at Easton Gray on Stanley Terrace, Toowong, Brisbane. Arthur and Cecilia had three sons and four daughters. (Ref.1) The family home, Easton Gray, was sold in 1944 for the construction of Toowong State High School, later Toowong College, and now the Queensland Academy for Science, Mathematics and Technology. (Ref. 4)
Postscript
In 1881, he was invested with knighthood (KCMG), and the Palmer River and Palmer River Goldfields were named in his honour as a lasting tribute.
Following his passing in 1898, he was remembered as follows:
Queensland mourns the loss of one of the ablest administrators she ever possessed. There may be widely differing opinions of the late Sir Arthur Hunter Palmer as a politician, but all are agreed that as an administrator he had no equal here. Although his manner was brusque-often to extremes-his somewhat austere exterior concealed one of the warmest and most honest hearts that ever beat. He was ever as ready to do a good turn to his strongest political opponent as to his warmest supporter. While as a Minister of the Crown he never failed to reprove a mistake on the part of a subordinate officer, he was ever to be depended on to defend him behind his back, and his memory will be most warmly cherished by those who most frequently came in contact with him, whether in public or private life. (Ref.3)
---
References:
1.
Friends of Toowong Cemetery Association Inc. - 2003: "Toowong Identities"
2.
Australian Dictionary of Dates 1542 - 1879
3.
Australasian Pastoralists' Review,15 April 1898, p.95
4.
Wikipedia
Biographical Article

This page was updated on: 12 September 2020