Archibald Mosman (1799 - 1863)
- Businessman, Trader and Whaler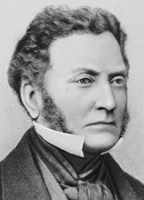 Background
Archibald Mosman (1799-1863), merchant and pastoralist, was born on 15 October 1799, the elder of twin sons of Hugh Mosman, of Auchtyfardle, near Lesmahagow, Lanarkshire, Scotland, and his wife Agnes, nee Kennedy. His father was convener of the County of Lanark and his eldest brother Hugh, became deputy-lieutenant of Lanark.
Archibald and his twin brother George, after spending some time growing sugar in the West Indies, arrived in Sydney in the 'Civilian' on 24 August 1828. The ship appears to have been under charter to them; they brought with them their own clerk, W. Scott, and a recommendation to the Governor from the Colonial Office.
Trading Business
They at once launched into business in Sydney. A warehouse was first established in George Street which they used to ship wool to Liverpool, as revealed in an announcement in the Sydney Gazette, 15 January 1829, that Messrs Mosman were agents for the Mary sailing to 'Liverpool direct' and that they would 'either purchase or make an advance on wool [in cash] consigned to their House in Liverpool'; perhaps connexions with Liverpool had been established during the years in the West Indies. The partnership between the brothers was dissolved in July 1829 but whether this was more than a business manoeuvre is uncertain. In practice the firm seems still to have been referred to as Messrs Mosman, and in 1831 a small grant was obtained on the foreshore of Great Sirius Cove.
Whaling and Shipping
Like many Sydney merchants of the late 1820s, they were interested in whaling, and Archibald planned to make Sirius Cove a centre for the industry. He bought out his competitor, John Bell, who had also been granted land at the cove for a whaling depot, and eventually extended his original grant to include a large part of the suburb which was given his name. In 1835 two whalers, the Jane, 221 tons, and the Tigress, 192 tons, were registered as belonging to the firm of Mosman; and in that year another vessel was bought by them, apparently for trade with New Zealand. The profits from whaling and from the berthing, careening and refitting facilities at Mosman's Bay appear to have been considerable; and in 1838 by arrangement, the precise nature of which is uncertain, Mosman's interests at Sirius Cove were taken over by Messrs Hughes & Hosking in return for a fixed sum to be paid to Mosman annually. By August 1844, however, Mosman and Hughes & Hosking were bankrupt. Mosman lost not only his annuity but the whaling establishment as well.
His other more speculative Sydney interests, the Floating Bridge Co., the Sydney Ferry Co. and the Australian Auction Co., seem all to have been abandoned; and it was probably soon after this that he acquired Furracabad Station near Glen Innes. In the widely scattered information on Mosman little more can be found about his career. Presumably the initial cost of Furracabad was purely nominal and, with the development of Glen Innes, Mosman appears to have prospered sufficiently to remove eventually to Byron Lodge, Randwick.
Family
Mosman had married Harriet Farquharson on 31 December 1847. There appear to have been eleven children of the marriage, ten of whom survived. The eldest son, Hugh Mosman, was conspicuous in the development of the Charters Towers district, Queensland, and is believed to have had eleven children. His son Hugh Mosman discovered gold in Charters Towers and was a Member of the Queensland Legislative Council. His daughters Cecilia and Harriette married respectively Arthur Hunter Palmer and Thomas McIlwraith, both Queensland Premiers.
Postscript
He died at Byron Lodge, Randwick, in 1863, and is buried in St Jude's Anglican Church grounds at Randwick cemetery. His wife Harriet died in 1883. Today, Sirius Cove is known as Mosman Bay and the land nearby is now the Sydney suburb of Mosman, both named after him.
In 1831 Mosman had built "The Barn", subsequently acquired by The Scout Association of Australia NSW Branch for use as a Scouts and Girl Guides hall. On 2 April 1999 the building was added to the New South Wales State Heritage Register.
---
References:
1.
Australian Dictionary of Biography
, Volume 2, (MUP), 1967
2.
Wikipedia
Biographical Article

This page was updated on: 5 September 2020