Sir Allen Fairhall, K.B.E. (1909 - 2006)
- Prime Minister of Australia ... if he had nominated?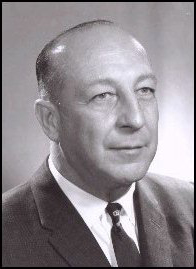 Background
Allen Fairhall, the third son of Charles and Maud Fairhall, was born on 24 November 1909, at Morpeth, near Maitland, in the lower Hunter Valley (N.S.W.). He was educated at Morpeth, Tenambit and East Maitland Public Schools and then East Maitland Boys' High School.
After leaving school, he served an apprenticeship as an electrical fitter at the Walsh Island Dockyard, Newcastle, and became a qualified tradesman in the category. He continued his education at Newcastle Technical College.
Mr Fairhall married Monica Ballantyne in 1936 and they have one son, Allen jnr, who was set to begin a career in radio with a cadet announcing job at 2MG (Mudgee NSW) until he was conscripted in the National Ballot for war service as a National Serviceman with the Royal Australian Engineers in Vietnam.
Radio Interests
While at school he became interested in wireless and took out an amateur transmitter's licence in 1927. He was an amateur wireless enthusiast from that time, "on air" from Newcastle with the call-sign of VK 2KB.
In 1929 he began broadcasting music on Sunday mornings from his family home, utilising a gramophone and borrowed records. He was asked about accepting advertising, and with a view to supplementing income during the Depression, applied for a "B Class" licence to try commercial broadcasting.
In 1931 he founded commercial broadcasting station 2KO Newcastle, operating with a 13 metre timber mast in his backyard and in the first month sold 8 shillings (80 cents) worth of advertising. Despite the Depression and lack of capital, Radio 2KO grew to be one of Australia's leading provincial radio stations.
He was active in moves to rebuild the status of amateur radio following the introduction of "CB" radio and lowering of operator licensing standards, meeting regularly with other local "ham" operators.
Community Service
In 1941, as Australia was rapidly gearing up for the Allied war effort, he was co-opted by the Ministry of Munitions to become Supervising Engineer of the Radio and Signals Supply Section (N.S.W.). In that capacity during World War II, he was responsible for the production of wireless, signals and radar equipment for the Armed Services. He worked for three years with the Ministry in an honorary capacity.
From 1941 to 1944, Mr Fairhall was an alderman of Newcastle City Council, serving the city as a war time Warden in the Civil Emergency Services. In 1942, he became President of the Australian Federation of Commercial Broadcasting Stations.
In 1947, he sold his interests in 2KO and the company Newcastle Broadcasting Co. Ltd, and took up dairy farming at 'Trevallyn', on the Paterson River.
Federal Parliamentarian
Allen Fairhall entered Federal Parliament as Member for the seat of Paterson (N.S.W.) in 1949, and held the seat for the Liberal Party until his retirement on 12 November 1969. The electorate of Paterson covered almost the entire geographical catchment of the rich Hunter River Valley, and spills over into areas outside the Hunter catchment. The electorate was predominantly rural, but with some industrial establishments in the central and lower sections.

The Hon. Allen Fairhall was Minister for the Interior and Works (1956-58) and Chairman of the Parliamentary Public Works Committee (1958-61). He became Minister for Supply on 22 December 1961, and was reappointed to the portfolio with Cabinet rank after the elections of 1963. He was a senior member of the Cabinet from that time up until his retirement. When the Holt Government was formed on 26 January 1966, Mr Fairhall was appointed Minister for Defence, and retained that post in the reshuffle following the November 1966 elections. According to Federal Cabinet papers released in 1997, it was reported that Mr Fairhall had had "deep misgivings" late in 1966 about Australia's commitment to the war in Vietnam.
On 20 December 1967, he was re-sworn as Minister for Defence in the Ministry formed by Prime Minister Mr John McEwen following the disappearance at Portsea (Victoria) of Mr Harold Holt on 17 December.

In 1954, The Hon. Allen Fairhall attended the 10th General Assembly of the United Nations in New York as a member of the Australian delegation, and was the first back-bench member of Federal Parliament to be included in the Australian mission. He was a founding Director of the Hunter Valley Research Foundation (1956) following the Hunter River floods of 1955.

In October 1966, The Hon. Allen Fairhall accompanied Prime Minister Holt and the Minister for External Affairs (Mr Paul Hasluck) as a member of the Australian delegation to the Manila (Philippines) Summit Conference concerning the future of South Vietnam and the conduct of the Vietnam war operations.

Immediately after the Manila summit, Mr Fairhall (at the request of Mr Holt) officially represented Australia at Vietnam's National Day celebrations in Saigon on 1 November 1966, and spent two days with the Australian troops in the field in Phuoc Tuy Province.

As Minister for Defence, he travelled to the United States in 1968 to attend the official handing over ceremony of the R.A.A.F.'s first F-111 fighter plane at Fort Worth, Texas.

Citing ill health, he retired from federal politics in August 1969. Phoebe Thornley, post-graduate student of History at the University of Newcastle, has stated, based on her research, that Sir Allen probably felt the Government was heading into the 1969 election as a loser, a "tired old government". She believes that he did not want to be a leader or member in Opposition, and saw retirement as a better option.

The papers of the day reported the event as follows:
Sydney Morning Herald 21 August 1969:
"Mr Fairhall's retirement leaves an ugly gap in the Liberal-Country Party front rank"
"His character and administrative ability undoubtedly added solidity to what is now an alarmingly bantamweight front bench" ... "His supporters claimed that if he had only put his name forward for the job he would have been Prime Minister now..."

Daily Telegraph 21 August 1969
"After Mr Holt's death in 1967, Mr Fairhall declined to be nominated for the Prime Ministership, a position he might easily have won"
..."Mr Fairhall's retirement will be a great loss not only to Parliament, but to the whole of Australia".
"He has shown qualities of drive and commonsense"
"He represents all that is best in politics and he leaves his office with the knowledge that he has his country's thanks and respect."
Recognition
Mr Fairhall was made a Life Member of the Wireless Institute of Australia (for long term services to amateur wireless and its subsequent development), a Companion of the Institution of Radio and Electronics Engineers (Australia) in recognition of long term services to the development of the radio and electronics industries throughout Australia, and an Honorary Doctor of Science of the University of Newcastle, N.S.W., (conferred on him by the University in October 1966) for long term services to research and development in secondary industry.
In 1966 Mr Fairhall was chosen by the Institution of Production Engineers (Australian Division) to receive the James N. Kirby Medal, for his encouragement to the development of secondary industry and the defence production industries during his four year term as Minister for Supply.
In 1970, Mr Fairhall received a Knighthood, with his creation as a Knight Commander of the Order of the British Empire.
Retirement
Soon after leaving Parliament, Sir Allen purchased Cambridge Press in central Newcastle, and this was run as a family venture with Allen Jnr. The business was later expanded with a "quick print" company named Lightning Speed Print in adjacent premises, to meet the developing demands for this type of offset printing and fast copying facility.
Sir Allen wrote a book (titled "Towards a New Society" -pub. Cambridge Press, Newcastle) on the implementation of the philosophies of 19th century American Henry George, exploring their application locally through a land value taxation system. Unfortunately, the implementation of Australia's GST somewhat restricted the impact that Sir Allen's book might have had upon our politicians. [Ref.3]
Sadly, Sir Allen passed away at an assisted care facility in Newcastle (NSW) on 3 November 2006, just three weeks before his 97th birthday, and was accorded a State Funeral on 10 November at St Stephen's Anglican Church, Adamstown.
---
References:
1. Official biography issued by the Press Secretary for the Minister for Defence 20 December 1967
2. " My Family - the Fairhalls" by Thomas J. Fairhall (1981)
3. Personal discussions with Sir Allen on 5 July 1994.
4. Telephone discussion with Phoebe Thornley 25 April 1999.


This page was updated on: 18 November 2020