Thomas Adam (1819 - 1904)
- Hunter Region Pioneer and Civic Leader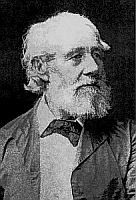 Thomas was born in Kilmarnock, Scotland, in 1819, a son of Thomas and Helen Adam.
The family migrated to Australia in 1837 and Thomas soon found employment as a carpenter and cabinet maker.
He apparently was a frugal man, as two years later he was able to embark on an eight month world voyage, returning to Sydney in June 1840.
Later that year he married Rebecca Bowden, and together they raised ten children.
Initially settling in the Brisbane Water district, Thomas was involved in timber milling, but in 1846 the family moved to Newcastle where Thomas went into business and two years later made his first land purchase. He continued to buy and sell land for the next forty years, developing his sawmill on Bullock Island between 1857 and 1861.
"While Thomas's greatest claim to fame may be the fact that Adamstown, Newcastle, was named after him, it was not his greatest achievement. He expressed his desire to leave the world a better place than the one into which he had been born and there is no doubt he achieved that." ... "Thomas was a man of the industrial revolution, of the world of nineteenth century liberal optimism before the horrifying destruction of the Great War was unleashed on the twentieth century world." ... "Thomas saw and participated in progress from the degradation of the convict years to the Federation of six thriving colonies three years before his death".(Ref. 1)
Establishment at Newcastle
Thomas used his interest in timber and woodwork to establish a timber mill, and in 1846 became a builder and contractor in Newcastle. In 1849 he completed the building of a punt to be used for crossing the Hunter River at Morpeth. With his own children's eduction being of high importance, he was instrumental in the establishment of the first non-denominational government school in Newcastle in 1858, adjacent to Christ Church (Church of England) and he was elected to the local school board, playing an important role in persuading the Board of National Education to build premises for a permanent vested National School. During the 1850s, Thomas had accumulated wealth by acquiring land and selling it at a profit to builders and tradesmen, or capitalising on his investment by erecting buildings before re-selling the properties. In 1857 he purchased 21 acres of land at Onebygamba (now Wickham), and they moved house several times as their funds and family increased. Their last son Andrew Laurie was recorded as the first white child born at Carrington.(Ref.2)
Between 1857 and 1861, Thomas and his brother-in-law William Bowden capitalised on the growth of Hunter coal production by constructing over 200 barges to bring the coal down from Iron-ark Creek from the Minmi mine near Wallsend to be loaded onto ships within the newly developing port area. Thomas' public image grew and with a strong interest in representative government, local government, free trade and secular education, he became one of the first Aldermen on the Newcastle Council, serving 1859 to 1872, and an unsuccessful candidate for the NSW Legislative Assembly. He worked on the planning and financing of the National School for over four years as a Patron and a tradesman, as well as being Secretary of the Board. He was proud be asked to lay the foundation stone for the Newcastle National School on 25 October 1862, but there was a rising tide of opposition to secular education which resulted in his removal from the Board in 1867. In 1887, Thomas became Mayor of Raymond Terrace while still actively engaged in the affairs of Newcastle Council as Chairman of the Improvement Committee. (Ref.3)
Raymond Terrace
As Thomas developed his business interests, and actively engaged in more land purchases and sales, his interests moved towards the suburb of Raymond Terrace, to which the family moved in December 1874, being at the heart of the coal and rural industry growth and near to the family of his wife Rebecca. He established a saw mill, flour mill and shipping agency, became Manager of the Hunter River New Steamship Company and was involved in many civic and business enterprises, including ownership of many blocks of land and houses. Thomas and Rebecca's son Andrew became Town Clerk of the Raymond Terrace Council, a position he held for fifty years, thus firmly keeping the Adam family name high in the district.(Ref.4)
Reflection
"Thomas was not only a man of action but also a thinker. He was known as an excellent public speaker and often committed some of his thoughts to paper. Throughout his life but particularly in his later years Thomas frequently wrote to newspapers. Some of his surviving thoughts indicate that he was a man ahead of his times in many ways. At the age of 81 years in January 1901, to celebrate the new century, he wrote an article for a local paper which reflects his true nineteenth century optimism. It was titled "A Creed and Confession of Faith for the Twentieth Century." (Ref.5)
Thomas passed away in Raymond Terrace on 3 July 1904, at the age of 85, leaving seven children and over forty grandchildren. His wife Rebecca had predeceased him by nineteen months.
Adamstown
Adam's Town was originally a speculative residential venture, initiated by Thomas, to provide housing for the miners of neighbouring Hamilton.
In the Newcastle Chronicle of 19 June 1869, it was reported that Mr Thomas Adam had purchased 194 acres for a price of One Pound per acre in the County of Northumberland, Parish of Kahibah. (Ref.6)
In the Newcastle Chronicle of 23 Sept. 1869, it was reported: "Adam's Town. — This is the name that is to be given to a new township which is about to be established between the Borehole and New Lambton, near Mr. Christian's, where Mr. Thomas Adam, of Blane-street, has recently purchased between fifty and sixty acres of Crown Land. This land is to be subdivided into a large number of small allotments, and sold at most reasonable terms so as to induce a population to settle upon it. Many of the allotments have been already disposed of, and in the course of a short time hence, we may expect to see a number of huts erected in the locality. The soil is said to be pretty good there." (Ref.7)
In the 1870's Adamstown was isolated from the rest of Newcastle and the neighbouring villages of Lambton, Hamilton and Merewether. Newcastle, while only seven kilometres away, was an arduous journey through the dense bush and scrub, which surrounded the little township. There was no water or sewerage and generally unhygienic conditions prevailed, especially after rain. Residents of the area relied upon tanks and wells for drinking water and water had to be carried from Newcastle during periods of dry weather.
Like most of the early settlements in Newcastle, Adamstown's early industries revolved around coalmining. Miners worked in either the neighbouring Borehole mine (Hamilton), or the Waratah Mine. There were also a number of brickyards and potteries in Adamstown due to the excellent clay soils in the area.
Adamstown was gazetted as a Municipality in 1885. The first council was elected in March 1886 with council chambers being completed in 1892. In 1938 Adamstown merged the other municipal councils and Newcastle Council to form the City of Greater Newcastle. (Ref.8)
---
References:
1. Adams, Elizabeth: Uncommon Endeavour - The Life and Times of Thomas Adam - 1998 (Preface)
2. ibid. pages 37-39
3. ibid. pp.42-69
4. ibid. pp.86-94
5. ibid. p.105
6. Sale of Crown Lands at Newcastle (1869, June 19). The Newcastle Chronicle (NSW : 1866 - 1876), p. 3.
Retrieved June 9, 2020, from http://nla.gov.au/nla.news-article 111159190
7. Retrieved June 9, 2020, from http://nla.gov.au/nla.news-article 111161377
8. City of Newcastle internet site, "Living - Suburbs"


This page was updated on: 9 September 2020