The County
Sussex, or South Saxon country, was also the arrival county of the Normans in 1066. Sussex lies south of London and Surrey, with Hampshire on the west, and Kent to the east, with the English Channel as a southern coastline.
Stretching nearly 80 miles (130 Km) across, Sussex has often been run from two centres, both ecclesiastically and civilly, with a division roughly based on the Greenwich Meridian. West Sussex is run from Chichester and East Sussex from Lewes, although Lewes' larger neighbour Brighton and Hove, has recently become a city.
A Coat of Arms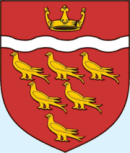 The Local Government Act 1888 introduced administrative counties each governed by an elected county council. Sussex was divided into two administartive counties: East and West Sussex.
East Sussex County Council adopted a seal in 1889, bearing a quartered shield showing six gold martlets and other insignia. East Sussex County Council was granted a new coat of arms on August 29, 1975,
as illustrated here
.
The Martlet is the mythical bird shown on the Sussex Coat of Arms. Thought to represent the swallow, it is shown at rest, wings closed and without feet, possibly because many myths tell that the martlet, or swallow, could never land. A number of early Sussex families used martlets on their arms. There is a crest with six martlets on it over the gateway at Bodiam Castle.