Louisa (Albury) Lawson (1848 - 1920)
- A Woman of Influence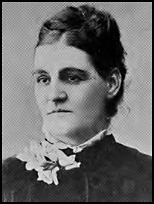 The Digger's Daughter (© Copyright by Vanessa Bland)
You think I'm handsome? Do you really? l suppose I am tidier and stronger than most women: I'd need to be for what I've gone through. And why shouldn't a woman be tall and strong?"[Ref.1] When Louisa Lawson was interviewed for The Bulletin in 1896 she was the embodiment of strength and vivacity. Her magazine The Dawn was in its eighth year of publication, she was politically active, an inventor, and pioneer of women's rights in Australia.
Louisa Albury was born in 1848 at Guntawang station, near Mudgee in New South Wales[Ref.2] to English immigrant parents.[Ref.3] Louisa attended the public school in Mudgee where she was her teacher's favourite pupil. He wished for her to enter the teaching profession, but Louisa's mother objected.[Ref.4] Louisa was raised in the Methodist faith, but she shocked and scandalised the congregation when she walked out of the church during the ministers' sermon on the beauties of eternal damnation. Furthermore, she refused to apologise or return to church.[Ref.5]
Louisa married Norwegian sailor Peter Larsen at the age of 18.[Ref.6]. The pair left for the goldfields soon after getting married where the first of their 5 children was born. Henry was born in a tent where Louisa was the only woman among 7000 miners.[Ref.7] They decided to anglicise Henry's name to Lawson and so a famous poet was born. But it is lesser known that Louisa herself was also a poet. It is a shame that her work is eclipsed by that of her famous son, because it displays genuine poetic talent. Her poems speak of Australia and the bush and of the political emancipation of women. Some of her most notable works are: A Reverie, The Lonely Crossing, and The Digger's Daughter.
ln 1883, Louisa and the children moved to Sydney, and in 1887 she bought the Republican for which she and her son Henry wrote and edited articles.[Ref.8] In 1888 she founded The Dawn, a magazine which focused on women's issues, especially women's suffrage. She paved the way for the legal and medical professions' appointment of female doctors, resident officers, magistrates, and more.
"One of the leading articles printed as late as February 1905, dealt with the refusal of the Sydney and Royal Prince Alfred Hospitals to appoint a woman resident officer. ln the ?fteen years since then three women medical officers and one scienti?c chemist - all residents - have been appointed to Prince Alfred Hospital, and two women are on the staff of Sydney Hospital."[Ref.9]
Despite the success of The Dawn Louisa faced much adversity. "How the men used to come and patronise us, and try to get something out of us!"[Ref.10] She was boycotted at the post office [Ref.11] and by the New South Wales Typographical Association".[Ref.12] In a rare interview she described one encounter where a man tried to bully her into lending him a block [Ref.13] but she did not wish to give it to him as it was expensive and she couldn't spare it.
"Well, he stood there and said nasty things, and poor Miss Greig - she's my forewoman - and the girls, they got as white as chalk: the tears were in their eyes. I asked him three times to go, and he wouldn't, so I took up a watering-pot full of water that we had for sweeping the floor, and I let him have it. It went up with a s-swish, and you should have seen him! He was so nicely dressed - all white ?annel and straw - hat and spring ?owers in his button-hole; and it wet him through - knocked his hat off and ?lled his coat pocket full of water. He was brave, I'll say that; he wouldn't go; he just wiped himself and stood there getting nastier and nastier and I lost patience. 'Look here' I said, 'do you know what we do in the bush to tramps that come bothering us? We give 'em clean water first, and then, if they won't go, we give 'em something like this.' And I took up the lye-bucket, that we used for cleaning type: it was thick, with an inch of black scum on it like jelly, that wobbled when you shook it. I held it under his nose, and said: 'Do you see this?' And he went in a hurry."
Louisa was also an inventor. In 1896 she noted that the straps used to fasten N.S.W. mail bags were inconvenient and slow. She designed an improved model[Ref.14] which was adopted by the post office authorities. The new design saved two-thirds of the time in fastening the bags and hundreds of pounds annually in string and wax costs.[Ref.15]
Louisa Lawson is credited as the pioneer for "votes for women", she dedicated her life to championing the rights of women and helping others where she could. She was an outstanding poet herself and mothered one of Australia's most famous poets. She was a strong, intelligent bush woman who applied her skills to a variety of interests. "Her friend Mrs E. J. Todd, who had been one of her journalists, remembered her as 'so full of original ideas that she always seemed to have plenty to spare for others".[Ref.16] She is truly A Woman of Influence.
---
References:
1.
'A Poet's Mother - Louisa Lawson'
The Bulletin
, Vol. 17, No. 871. 24 Oct 1896
2.
NSW BDM registration number 1629/1848 (V18481629 33A)
3.
Her father Henry Albury, arrived in Australia in 1838 on the Woodbridge with his parents John and Ann and his siblings.
Louisa's mother Harriet Wynn arrived in 1841 on the Lady Kennaway with her sister Emma.
Harriet and Emma were orphans of only 16 and 17 years old respectively. As an interesting side note,
Harriet is often described as being from Devon, and a Clergyman's daughter, though records say otherwise.
According to the Lady Kennaway shipping records, Harriet was born in Middlesex London), but her baptism took place
in Norfolk. Furthermore, her father was not a Clergyman as his children's baptism records variously refer to him
as a "Rider", "Commercial Traveller" and "Commercial Agent".
Although articles frequently deny Henry Lawson's "gypsy roots", it is certainly possible that Joseph Wynn
was a Gypsy as these occupations were common in Roma Gypsies.
4.
'Louisa Lawson and Her Son'
The Bulletin
, Vol.41, No.,2116, p.2
5.
ibid.
6.
NSW BDM Registration number 2535/1866
7.
'Louisa Lawson and Her Son' op cit.
8.
Radi, H. (1986) Australian Dictionary of Biography, Volume 10.
httgl/adb.anu.edu.au/biography/lawsonlouisa-7121
9.
Louisa Lawson Obituary. Sun (Sydney), 22 August 1920, p 17.
10.
'A Poet's Mother' - Louisa Lawson
11.
ibid.
12.
'Boycotting The Dawn'.
The Dawn
Volume 2, Number 6. Sydney, October 5, 1889
13.
An item used in printing
14.
New South Wales, Australia, Government Gazettes, 1853-1899. 16 Apr 1896. Page 2723
15.
'A Poet's Mother - Louisa Lawson'
16.
Radi (1986) op cit.
SOURCES:
a. Image of Louisa Lawson: National Library of Australia. ca.1880. PIC Cold Store A2/2/2 Box 4-1 #PIC/12302
b. This biography was written by Vanessa Bland as an entry for the 2019 Croker Prize, under the auspices
of the Society of Australian Genealogists, and is reproduced here with Vanessa's permission (25 June 2020)
---

This page was updated on: 9 September 2020