Thomas J. Fairhall (1912 - 1990)
- Journalist, War Correspondent and Family Researcher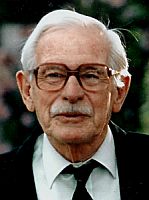 Background
Tom is a great-great-grandson of our family pioneers, William and Ann. He was a journalist for the Sydney Telegraph, Daily Mirror and Fairfax Press, a war correspondence during the Second World War, and used his research and journalist's skills to research the Fairhall family history.
Tom was a prolific correspondent once we made contact, and his "flimsies" arrived with great regularity as he uncovered new family members and their family information. In 1972, using his Reader's Ticket, Tom spent many hours scanning through immigration records at the State/Mitchell Library in Sydney to discover that our pioneer family emigrated to Sydney and then Morpeth on board the "Maitland" in 1838, a fact not known to our family until that time.
In 1981 he compiled a booklet, "My Family- the Fairhalls: From Sussex to the Green Hills" for a Hunter Region family history competition. Tom didn't win a prize but he saw the entry as adding purpose to his research, and its contents have been shared and quoted in the years since. I recall meeting Tom for a beer a couple of times in Sydney at one of his journalist's "watering holes", and enjoyed dinner at his home in Bellevue Hill, meeting his wife Irene and one of my namesakes for a most enjoyable family meal and chat. His skills and enthusiasm are fondly remembered.
Early Career
After leaving school, Tom worked in his local Post Office as a messenger, and his strong ambition to become a writer led him to purchase his first typewriter and begin submitting stories to various newspapers, quite often with an historical bent. He was employed by Stanley Kingsbury, the editor-owner of the Gosford Times, as a local correspondent, later being promoted to the Gosford office and starting his career in journalism: no University degree, just the "school of hard knocks"!
In 1933 he and a colleague started the Hamilton Free Press, but the Depression meant that it lasted just a few issues. From there Tom moved to employment at the Muswellbrook Chronicle, the Illawarra Mercury and then the Armidale Express, by now qualified to be classed as a "Reporter-Subeditor".
Next, Tom moved to the city, as a subeditor at the Daily Telegraph then as aviation and defence roundsman, being asked to tour South-East Asia and report on the Allied strength in what was seen as an area of future conflict.
War-Time Career
Tom seemed to have dodged death on several occasions according to a newspaper article in 1942. In Malaya a car he was travelling in was machine-gunned by Japanese planes, and at Bandoeng (Java) he was one of a few to survive a Japanese attack on the airfield and was able to be repatriated briefly back to Australia. He was about to leave Singapore when the first Japanese bombing raid took place on that city.
He reported for the Daily Telegraph from several countries, often not far from the fighting. He narrowly escaped with his life while on the Kokoda Trail in November 1942 when Japanese Zero bombers attacked the forward Australian positions. The resulting shrapnel wounds resulted in Tom spending time in a military hospital.
On 23 September 1945, he received advice in a personal letter from US General Douglas MacArthur that he had been awarded the Asia-Pacific Ribbon in view of his "long and meritorious service in the in the Pacific Area" and that he had "added luster (sic) to the difficult, dangerous and arduous profession of war correspondent."
---
References:
1. From Sussex to the Green Hills- Tom Fairhall 1981
2. Sydney Daily Telegraph - November 30, 1942


This page was updated on: 9 September 2020