Stanley Raymond Fairhall (1891 - 1978)
- 20th Century Photographer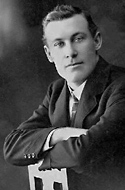 First Contact
I commenced my family history research in 1966 by writing to all the Fairhalls I could find in Australian phone directories. In those days, all major Post Offices had the latest copy of every District Telephone Directory in open shelves, available for browsing. Stan holds the honour of being my very first letter received in answer, filed as letter #66/1. He told me I was his great nephew, that he was interested in helping, and had a clear decorative hand that made it easy for me to start compiling my family.
Unfortunately I never got to meet Stan, something I regret, but I did spend some time twenty or so years later with his son, Len.
Boats and Photography
Stan was reputed to be an excellent boat-builder, building in timber and using a wide range of carpentry skills and I understand the Fairhall family enjoyed quite a few weekends on the Hunter River, in a boat crafted by Stan, or one expertly managed by him.
However, it is his interest in photography that gives him placement here, as he apparently owned a camera in the pre-1920s, quite rare for those times, and processed his own films. His portait on this page was reportedly taken in the 1920s.
In the mail late in June 2013 I received a page from the 21 June 2013 issue of the "Maitland Mercury", posted by a Fairhall family member. The article, and photographs, took most of two pages, and what it revealed was a link back to Stan, after over 90 years. It would appear that my web site had been consulted, as a public source of the information given about Stan, but no-one contacted me to seek information about the mystery photographer or his family.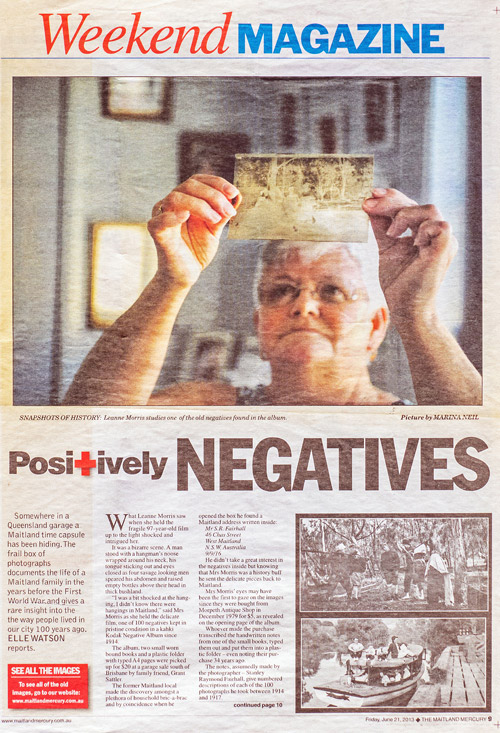 The text reads as follows:

Somewhere in a Queensland garage a Maitland time capsule has been hiding. The frail box of photographs documents the life of a Maitland family in the years before the First World War and gives a rare insight into the way people lived in our city 100 years ago. ELLE WATSON reports.
What Leanne Morris saw when she held the fragile 97-year-old film up to the light shocked and intrigued her. It was a bizarre scene. A man stood with a hangman's noose wrapped around his neck, his tongue sticking out and eyes closed as four savage looking men speared his abdomen and raised empty bottles above their head in thick bushland. "I was a bit shocked at the hanging, I didn't know there were hangings in Maitland," said Mrs Morris as she held the delicate film, one of almost 100 negatives kept in pristine condition in a khaki Kodak Negative Album since 1914.
The album, two small worn bound books and a plastic folder with typed A4 pages, were picked up for $20 at a garage sale south of Brisbane by a family friend, Grant Sattler. The former Maitland local made the discovery amongst a plethora of household bric-a-brac and by coincidence when he opened the box, he found a Maitland address written inside:
Mr S. R. Fairhall
46 Chas Street
West Maitland
N.S.W. Australia
9/9/16
He didn't take great interest in the negatives inside but knowing that Mrs Morris was a history buff he sent the delicate pieces back to Maitland.
Mrs Morris' eyes may have been the first to gaze on the images since they were bought from Morpeth Antique Shop in December 1979 for $5, as revealed on the opening page of the album.
Whoever made the purchase transcribed the handwritten notes from one of the small books, typed them out and put them into a plastic folder - even noting their purchase 34 years ago.
The notes, assumedly made by the photographer - Stanley Raymond Fairhall, give numbered descriptions of each of the 100 photographs he took between 1914 and 1917. (Bruce's note: The actual range is 1915 to 1919)
"Views of Annual Procession at Orphanage of Campbells Hill taken Sunday at 4.00 o'clock pm 8th October 1916.
Harry Fairhall taken at Chas Street WM Easter 1916.
Ernie taken at side of house.
Adeline taken in yard Chas Street 1915."
Adeline was Mr Fairhall's wife according to an online genealogy of the Fairhall family.
Mr Fairhall was born in Morpeth on April 13, 1891, and married Adeline Wakely in 1910. The couple settled in west Maitland, now known as Maitland, in 1913 with their children Cecil Stanley and Ernest Ivor Fairhall who regularly feature in the photograph collection.
The other photographs are snapshots of the family's life in Maitland - their children, friends, there are portraits of women, children and families taken in the backyard or along the side of Fairhall's house.
Mr Fairhall shot funerals, fishing trips, boats, soldiers and firemen, days at the beach and hidden among them is the first image Mrs Morris pulled from the pack - the notorious hanging photograph.
What Mrs Morris thought was a photograph capturing the violent death of a man is more likely to have been a staged shot taken on a camping trip. In the next photograph the men are posing around a tent in the bush, one is holding a bottle of whiskey or rum, another reading a newspaper and a third with a tin of Arnott's Biscuits under his arm.
Homicide or horseplay, whatever the images are Mrs Morris wants to return them to the family.
"I've never seen anything like it, I love digging into family history and I would love to see if any of the family are still here," Mrs Morris said. "I knew I had to contact the Mercury because the Mercury is Maitland."
She said if there was no family left to claim the pictures, she'd like to see them on display.
"I'd like to see who they belong to, I don't want to see them thrown back in the box and forgotten! If I can't find the family I would like to see them in a museum."

---
So on reading this information, I phoned the Mercury
and spoke to the Editor, giving him some more information
about Stan and advised how his son Len could be contacted.
That was as far as I went, but kept the newspaper pages for reference...
Fast Forward to 2019
I wondered what had happened to those negatives, and decided on a whim to phone the Maitland Mercury to check. I was referred to a reporter, and to other staff, finding they were still in the care of a staff member, safely stored in a desk! When asked if they would be of interest to me I quickly answered YES and arrangements were made for delivery.
There were only 79 black and white negatives in the file, each 5.5" x 3.25" (140 x 83mm) in size. I could not scan such a large size, so I constructed a light box and photographed them individually. I noted that a few were damaged, some too badly for remediation, but the others were edited, enhanced and stored as digital images. It seems likely that Stan processed his own films and probably did photography for friends and family. Stan's description index was detailed for about half the negatives, but then flowed over several lines for others, and it was very obvious that some had been moved into different envelopes so some of the the descriptions no longer applied. I did my best to interpret the contents, and have compiled an album of 72 of the images with a hope that if anyone recognises unknown people or can correct my description I will gladly adjust it! It would be extremely likely that some of the boats shown in his photographs were constructed in whole or in part by him.

This page was updated on: 9 September 2020