Neroli Fairhall MBE (1944 - 2006)
- Archer and Paralympian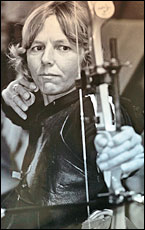 Background
Neroli Morton was born in Christchurch, New Zealand, on 26 August 1944, a daughter of Noble and Perl Morton.
She was educated at Rangi Ruru Girls' School in Christchurch, where her memory is still celebrated. Neroli was a keen horsewoman, and it believed this interest brought her to Sydney in the early 1960s.

During this time, she met and married John Gary Fairhall in 1966, and used the name Neroli Fairhall from that time on, although their marriage apparently only lasted only a short time.
She returned to New Zealand, and in 1970, at the age of 24, Neroli was knocked off her motorcycle in Christchurch, and paralysed from the waist down. She faced the challenge of life in a wheelchair, and took up archery to replace her interest in horse sports.
A Successful Change of Focus
A natural athlete, Neroli competed locally and then overseas, including the Australian and American National titles, before being selected for the 1980 Paralympic Games. In that competition she won a Gold Medal, and was selected to represent New Zealand in the 1982 Commonwealth Games in Brisbane.
In the 70 metres Women's event she won the Gold Medal, becoming the Women's FITA Double Champion - the first paraplegic to ever achieve such a result in Olympic or Commonwealth competition.
She again represented New Zealand in the 1984 Olympic Games, at Los Angeles, but did not reach medal status.
Neroli passed away on 11 June 2006, at Christchurch.
Official Tribute
The following official New Zealand Government Press Release (16 June 2006) stated:
Disability Issues Minister Ruth Dyson has paid tribute to athlete and Commonwealth Games gold medal winner Neroli Fairhall, whose funeral is tomorrow in Christchurch.
"Neroli Fairhall was an inspirational woman for all New Zealanders, she did what many thought was impossible - she competed against the best in the Commonwealth and won gold in archery in 1982."
"Two years later in Los Angeles she became the first paraplegic athlete to compete at the Olympic Games. Neroli was an example of how a disabled person can overcome the low expectations of others and achieve excellence."
Neroli Fairhall became paralysed from the waist down after a motorcycle accident in her twenties. Through determination and dedication just three years later she was selected for the 1972 Heidelberg Paralympic Games in track and field. At the 1974 Commonwealth Paraplegic Games in Dunedin she competed in archery.
She went on to compete regularly at Paralympic Games until Sydney 2000. Highlights included the 1980 Games in Holland where she won gold and set a world record which stood for 12 years. She was also awarded an MBE for services to the sport of archery.
"She inspired many people, and was a staunch advocate for the rights of people with disabilities. It was a privilege to know her and my sincere condolences go out to her family and many friends."
Postscript
On a visit to New Zealand South Island in 2010, we visited the New Zealand Sports Hall of Fame housed in the Dundein Railway Station precinct. We were surprised that Neroli was not mentioned among the 160 sportsmen and sportswomen recorded there, and I enquired of the custodian. He didn't know of Neroli at all, so I decided, when revising this page, that I would write to the Hall of Fame CEO Mr Ron Palenski and see if the omission can be remedied. Watch this space!
---

This page was updated on: 9 September 2020