Auction of Close Land: 1930 - Morpeth N.S.W.

EXPANSION OF THE VILLAGE
Up until the time of this auction, the Close family had owned most of the land around the settlement of Morpeth, and the sale was the impetus for the village to expand and for wider public ownership of the surrounding land. As a result, there were many new homes built in the village through the 1930-1940 period.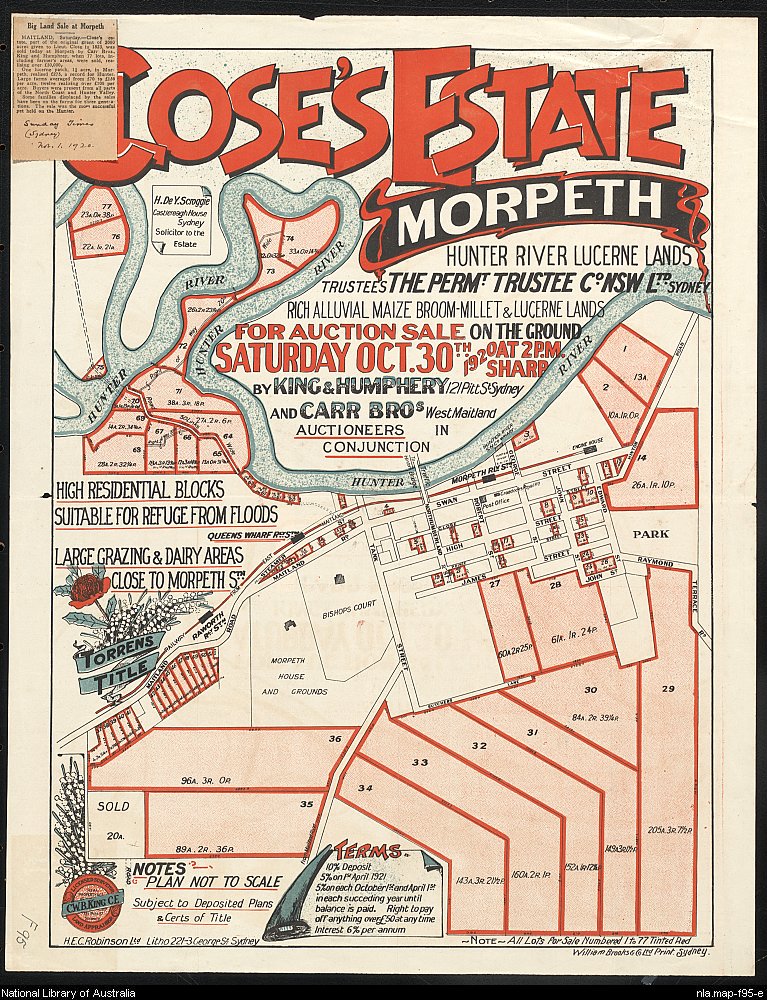 Copyright Notice: National Library of Australia
* The Library or third parties reserve their rights (including moral rights) in material contained on this site.
* You may download, temporarily store in cache and display the material in unaltered form only. You may also print and copy the material in unaltered form for the purposes permitted by the Copyright Act 1968 only (retaining this copyright notice).
* The Library will offer assistance in identifying copyright owners where possible but the onus is on the user to clear permissions before publication.
* All material in this database, served from Australia, is administered under Australian Intellectual Property Laws.
* The Library believes that the majority of items provided through this service are no longer the subject of copyright restrictions, or have been cleared for display in this service by the Copyright owners. However, the Library invites any individuals who believe they hold current rights over items provided through this service to contact the Library provided such individuals can establish to the Library's satisfaction that they do hold the relevant rights. The Library will remove in-copyright materials from the service if requested to do so by rights holders.
REF: http://www.nla.gov.au/digicoll/copyright.html

This page was updated on: 8 September 2020