Eric Sydney Quirk
b. 30 Aug 1916, d. 10 Sep 2008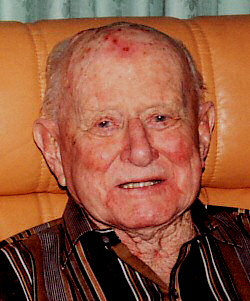 Eric Quirk Dec. 2004
      Eric Sydney
Quirk
was born on 30 Aug 1916 in
Willoughby, New South Wales
.
Eric Sydney Quirk married
Jean Alberta

Coleman
, daughter of
Albert

Coleman
and
Clara Amelia

Thorpe
, on 2 Jan 1943 at St Oswald's Church of England Church in
Haberfield, New South Wales
. On 25 Feb 1945Eric Sydney Quirk was the rear gunner of the RAF bomber LJ925 when it was shot down over Norway. What happened then is summarised by Tor-Arne Nøstdal (Email: 21 Jan.2015) as follows: "
Eric was one of three that jumped out and survived from an RAF plane that was shot down 25 Feb.1945 outside Arendal, Norway.
He was hidden from the Germans by locals, and later the local resistance until the war ended in May. They managed to give him false ID papers and since he couldn't speak Norwegian they also managed to provide false papers that told he was deaf and dumb. With these he managed to pass a control post. He was also close to getting caught at least a couple of more times before he came to a safe camp up in the mountains.
The two other survivors were caught and were brought to Oslo where they remained as POW till the war ended.
"
Researcher Gunnar Foseid has compiled notes and a video on Vimeo (71606226). Note Eric is in the back row of the crew photograph, at right, at 3:08 min into the video:
"SHORT STIRLING LJ925 - The last flight. Information? Contact: stirlingLK147@gmail.com
On Sunday 25 February 1945 at 1836 hours, Short Stirling LJ925 (JZ-O) from 196 Squadron departed from Shepherds Grove, Suffolk, England. Mission: supply drop to the Norwegian MILORG district 17 at drop zone "Stirrup 2" at Hamrefjellet, Rauland, Telemark, Norway.
Just across the Norwegian border, LJ925 was attacked by three German nightfighters from Kjevik, flown by Oberleutnant Schultz, Feldwebel Homann and Staffelkapitän Hüschens. LJ925 caught fire, lost height and Flight Officer Tickner ordered the men to bail out.
Mann, Caldwell and Quirk managed to bail out, but Tickner, Stevenson and Humphrey went down with the aircraft and crached into the ice covered Lake Hølen at 2153 hours, at the estuary of Nidelva river at Strømmen in Arendal. Humphrey managed to bail, but his parachute got caught outside the aircraft.
Tickner most likely saved many civilian lives by ditching his aircraft into the water, or trying to make a forced landing on the ice, instead of hitting the many houses in the area. Tickner has never been found.
Mann and Caldwell landed safely just east of Hisøy church, but were soon captured by German soldiers. They became POW until VE day on 8 May 1945.
Quirk managed to hide through an amazing escape journey, brought to safety by the locals and the home front and was hidden until VE Day. Quirk attended the Norwegian Home front that received the allied supply drops in the mountains during his time on the run.
Humphrey and Stevenson are both buried at the Arendal Høgedal Cemetery at the Commonwealt War Grave plot.
In 1990 a Memorial was erected and unveiled by Hisøy Local History group and NROF at Hisøy, not far from Hisøy church.
KIA: Pilot Flying Officer TICKNER, Russell George 24 - RAAF 420304
KIA: Wireless Operator Flight Sergeant STEVENSON, Joseph Daglish 25 - RAAF 422761
KIA: Flight Engineer Flight Sergeant HUMPHREY, George Alfred 38 - RAF 919841
POW: Navigator Flight Sergeant MANN, Rolf William 21 - RAAF 422649
POW: Bomb Aimer Flying Officer CALDWELL, John Henry 22 - RAAF 423986 (post-war s/no O23127)

Escaped: Reargunner Flight Sergeant QUIRK, Eric Sydney 28 - RAAF 423888 (bailed out & evaded capture.)
"
Eric and Jean lived at 14 Luxor Parade in
Roseville, New South Wales
, in 1959 when Jean informed of her father's death.
Eric and Jean lived at 51/381 Bobbin Head Road in
Turramurra, New South Wales
, in 2005.
Eric Sydney Quirk died on 10 Sep 2008 in
North Turramurra, New South Wales
, at the age of 92.